Machno gain well deserved first point
Following on from a disappointing opening day defeat away at Rhuddlan Town, Machno were looking to get points on the board with an away trip to Llanfairfechan Town. Everybody knew that a trip to last season's league runners up, and age old Vale of Conwy adversaries, would certainly not present an easy task in trying to gain valuable first points of the season.
There were two changes in defence for Machno with Seb Owen replacing Gaz Griffiths and Arwel Lloyd in for Ben Mullender, whilst last season' stop scorer Rhidian Williams returned to the starting line up ahead of 16 year old Dion Lloyd, having replaced him from the bench last week.  There was also a Machno debut for new signing Chris Dewi Nicholson In place of Jamie Williams.
As the game got underway it was in fact Nicholson who appeared to be putting an early stamp of authority on proceedings.  The former Llanrwst United midfielder had the opening effort of the game when striking a 20 yard sighted just wide in the 3rd minute.  However, even more noticeable were the three commanding challenges which Nicholson made within 8 minutes. If ever there was a way to lift your new team-mates and lead by example, he was certainly trying to do so.  Nicholson's introduction in a holding midfield role also seemed to be having an influence in freeing up Machno's highly promising teenager Sam Thomas.  Thomas was certainly seeing plenty of the ball, and had his own long range effort sneak wide before 10 minutes were on the clock.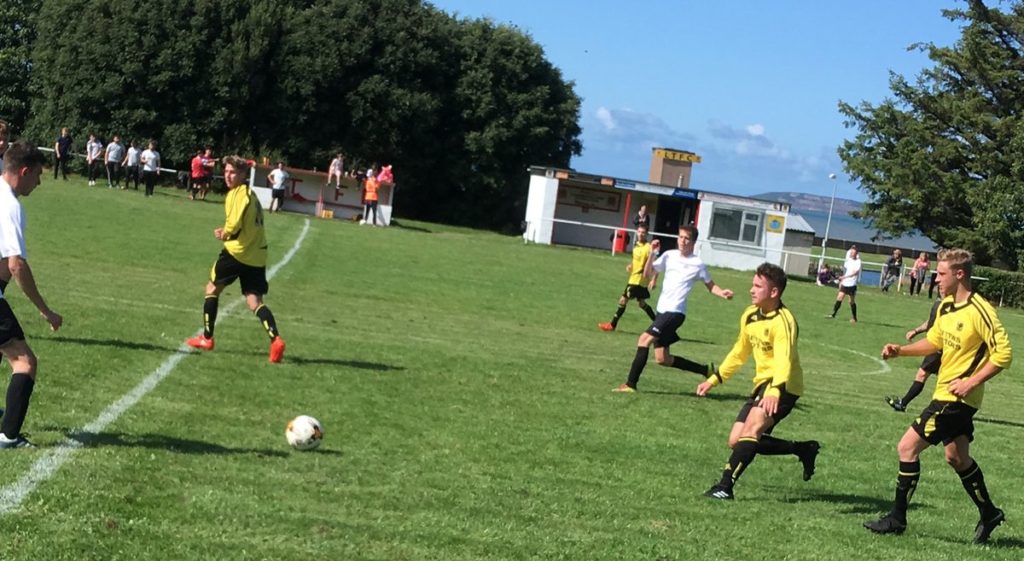 Chris Nicholson & Rhidian Williams work hard to snuff out a potential Llanfairfechan attack
It was certainly not one way traffic in the early stages, though, as Llanfair also looked dangerous on the attack. An early free kick was hit into the Machno wall, whilst a very dangerous "two v two" counter attack was only snuffed out by some fantastic defensive work by Machno stalwart Damien Eyre. Arguably the best chance for either team came along after 13 minutes when a Sam Thomas drive deep into Llanfair territory, resulted in a Luke Roberts cross being met by a Callum Parry effort, which was blocked, and Nicholson put the follow up effort wide.  Just a minute later Nicholson was once again the focal point when making a perfectly timed sliding tackle at the other end of the field and somehow instantly regaining his feet to put his body on the line and block the follow up shot.  The intensity level was certainly high!
On 17 minutes Machno took a deserved lead in the match, and from a familiar source.  Callum Parry had broken through the Llanfair rearguard and centred, whereby a Luke Roberts effort was parried by the keeper only for Parry himself to follow up and calmly tuck the ball away.  1-0 Machno.
Luke Roberts is brought down as Machno exert pressure just before taking the lead
Machno certainly didn't look to rest on their laurels as they were immediately back on the front foot. A great interception by Machno's very own "Milky Bar Kid" Seb Owen, saw him collect the ball and immediately penetrate deep into the opposing half, and as the ball broke across field Damien Eyre saw his effort fly wide. At the other end Llanfair continued to probe and a 22nd minute shot drew a fine save from Machno stopper Dec Bailey, as he propelled himself into mid air and clung onto the ball. Without doubt one for the cameras!
The game was now really developing into a very competitive end to end affair, and a fiercely struck Luke Roberts effort drew a fine save from the Llanfair keeper as he tipped over the bar. Machno again seemed to be in the ascendancy as further chances saw Ian Griffiths volley over the bar from an inswinging Parry free kick, followed just a minute later by a Sam Thomas 20-yarder also clearing the frame of the Llanfair goal.  At the other end of the pitch, Bailey was called upon to save twice from within the 18 yard box as Llanfair chased the equaliser.
The half appeared to be drawing to a scrappy conclusion with bookings for both Rhidian Williams and Seb Owen, before Declan Bailey pulled off one final top class save, tipping a fierce 20 yard effort over the bar.  However, Machno saw it out to lead 1-0 at the interval.
In what was perhaps uncharacteristic compared to recent weeks, Machno came out of the blocks flying for the second half. Rhidian Williams whipping in a very dangerous cross within a minute of the restart, was followed a minute later by substitute Josh Francis' sending a 25 yard free kick over the bar. The Yellows were obviously intent on strengthening their grip on the game during the second period, as they created a further six attempts on the hosts' goal before the hour mark.
Despite creating plenty of chances Machno were getting drawn deeper into an old fashioned scrap as both sides struggled to keep a lid on emotions which seemed to be heading to an inevitable red card at some point, with the Llanfair number 15 particularly pushing his luck!  With 20 minutes to go Machno still held a slender one goal to nil advantage and were desperate to put the game to bed.  Rhidian Williams was beavering away up front to try and create something, as a right wing break was ended with a Sam Thomas "on target" effort.  A couple of minutes later Williams created a chance for himself through sheer perseverance in chasing a seemingly lost cause when robbing Llanfair captain, Curtis Murray, on the byeline, but was unable to convert the chance when one on one with the keeper.  It was certainly starting to feel like the Yellows may once again rue missed opportunities. And so, seemingly, it would be, as a rare Llanfair second half attack resulted in an excellent 77th minute right wing cross being despatched tidily into the bottom left hand corner via the centre forward's cool header. All level again at 1-1.
Barely had the "hardly muted" hosts' celebrations finished, before Machno regained the lead. Callum Parry skipping through two tackles before sublimely firing an absolute bullet into the net from the edge of the box, and consequently continuing his run of scoring in every game he has worn the Yellow shirt bearing the name "Rambo" thus far.  2-1 to the visitors.
Callum Parry fires in an unstoppable second goal, to regain the lead for Machno
The joy of regaining the lead was, however, short-lived as just 5 minutes later Llanfair again drew level.  The hosts influential number 7 skipped past three tackles before laying it on a plate for his fellow centre forward to coolly slot home another equaliser.  2-2, and so it would finish with very few further half chances In the final five minutes of play.
Having led through three quarters of the game Machno probably went home rather disappointed for the second week running, yet a point gained in Llanfairfechan is never something to be dismissed, so heads should be held high.
Away next week to old rivals Llansannan, things just don't get any easier! COYY
Starting Line Up :
Declan Bailey
Rob Lloyd
Arwel Lloyd
Ian Cakes Griffiths
Seb Owen
Damien Eyre
Sam Thomas
Chris Dewi Nicholson
Callum Parry
Luke Roberts
Rhidian Williams
Subs:
Josh Francis (replaced Ian "Cakes" Griffiths)
Dion Lloyd (replaced Rhidian Williams)
Sion Jones
Callum Van Werkhoven
Alex Hazelhurst